Humid Trance Distance.
4K Digital video. 10:05. 2021
How do you signal shifts in the experience of social space—physical and psychological, individual and communal--during a pandemic?
Humid Trance Distance
, a video performance project by Janelle Rebel and Wes Kline, is driven by an impulse to unpack the new anxiety of bodily proximity in public space as well as to cultivate episodes of distanced togetherness in their community in southwest Florida. The performances are scored, rehearsed, and improvised on location for two to infinity performers and utilize momentary gestures, found and simple constructed objects, cyclical actions, and spatial geometries. The project investigates ideas about the hyperlocal, productive affect, and dispersive technologies through abstract movements--face, sync, pass, waterfall, meet, revolve, and intersect.
Directed by Wes Kline and Janelle Rebel.
Writing, performance scores and choreography by Janelle Rebel.
Shot, edited with music by Wes Kline.
Performed by:Chelsea Bruner, Matthew Dalton, Eleanor Eichenbaum, Musa Kunene, Ro Maiti, Alé Salamán, Michael Wyshock.
Koppmoll, short documentary film. 26 min. 2021.
Cinematographer.

Filmed in the far north of Norway, we follow the writer Damon Falke as he visits a resident family whose lives have been touched by change and memories of World War II. While considering his own need for place, Falke is introduced to places and stories that speak of home, family, loss, and a nearly forgotten war. Koppmoll is directed by Charles M Pepiton, filmed by Wes Kline, written by Damon Falke, edited by Ira Dern, with translation provided by Kristine Fostervold, and features music by Camilla Ammirati.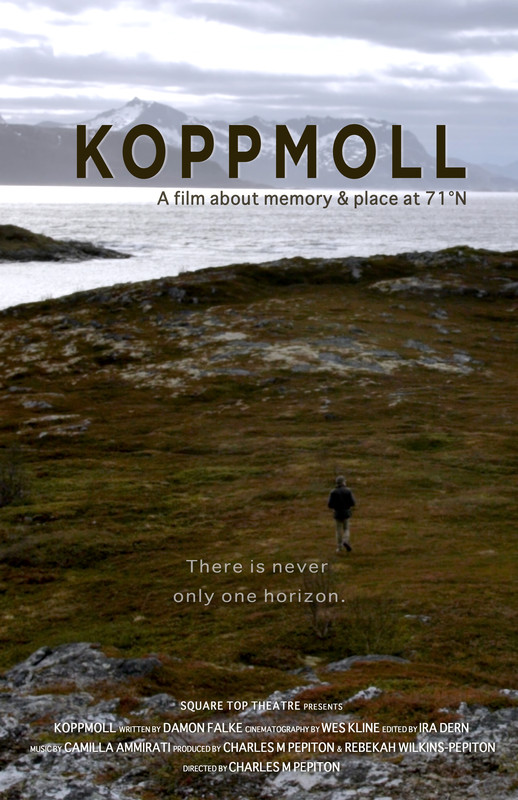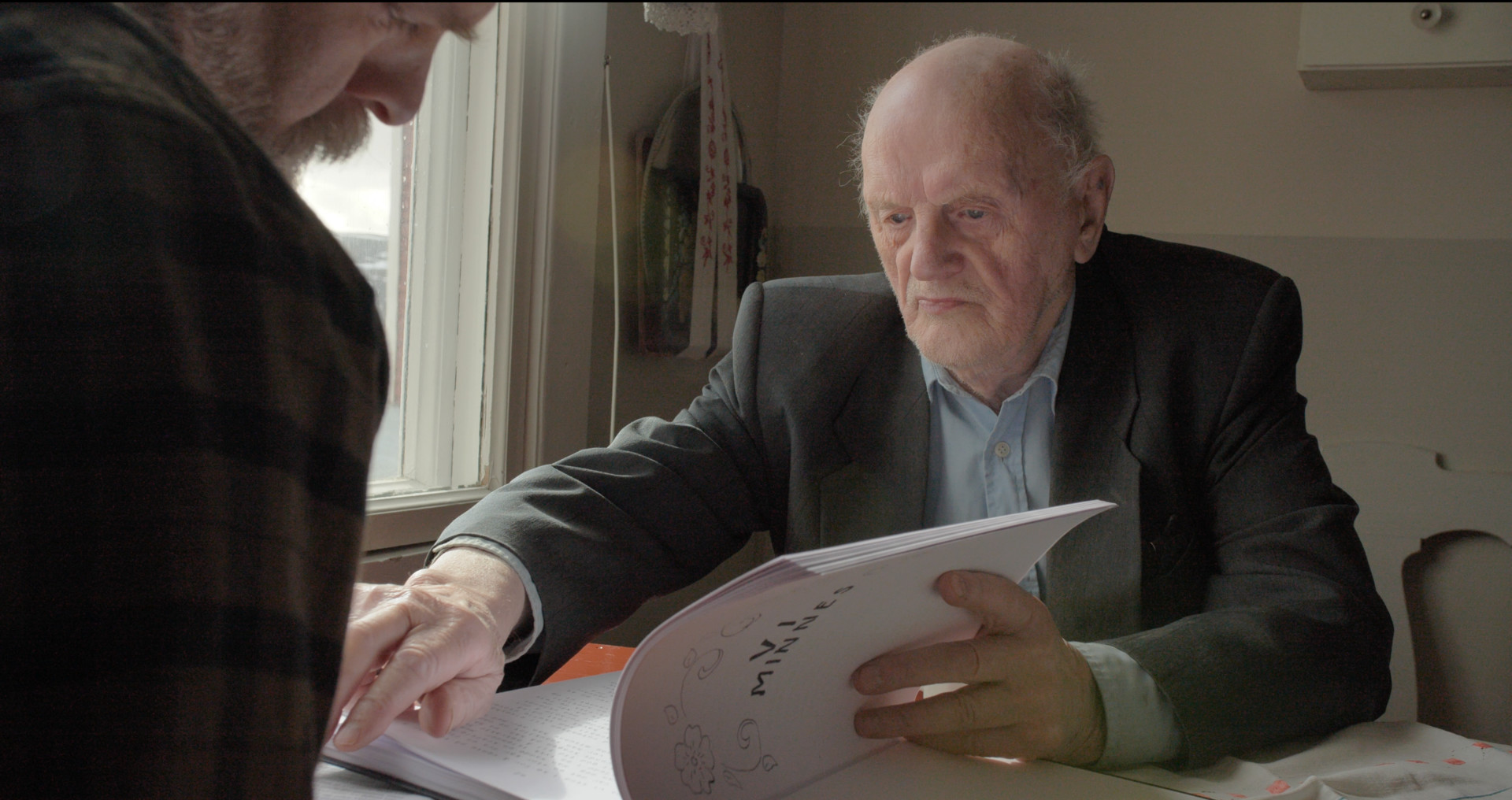 Friend. Artist book. Edition of 5. 2014.

Shortly after the new year, I began receiving a series of "spam" emails in my inbox. Usually filtration software removes them long before I encounter them, repositioning messages in a folder that becomes a kind of dead letter office, and transforming a nomadic figure into a predetermined and banal form - "spam."

Throughout the month of January, however, I continued to receive these emails; all of them were characterized by a particular form of text in the body of the email which allowed it to "pass" as human. This text was notable for its aspirations; it was obviously algorithmically generated, but it recalled Modernist poetics, pop culture fragments, and personal epistles in its palimpsest of language 
and allusive beginning-to-speak. These texts passed a Turing test-- slipped past the machinic filter, proved themselves to be "human," and claimed what Saussure called parole, or spoken language. They marked themselves as speech, and I accepted my role as listener, inhabiting a shifting and political form --— that of "friend."

After January, the emails ceased. I have assembled and edited the text chronologically for this book, preserving the original syntax.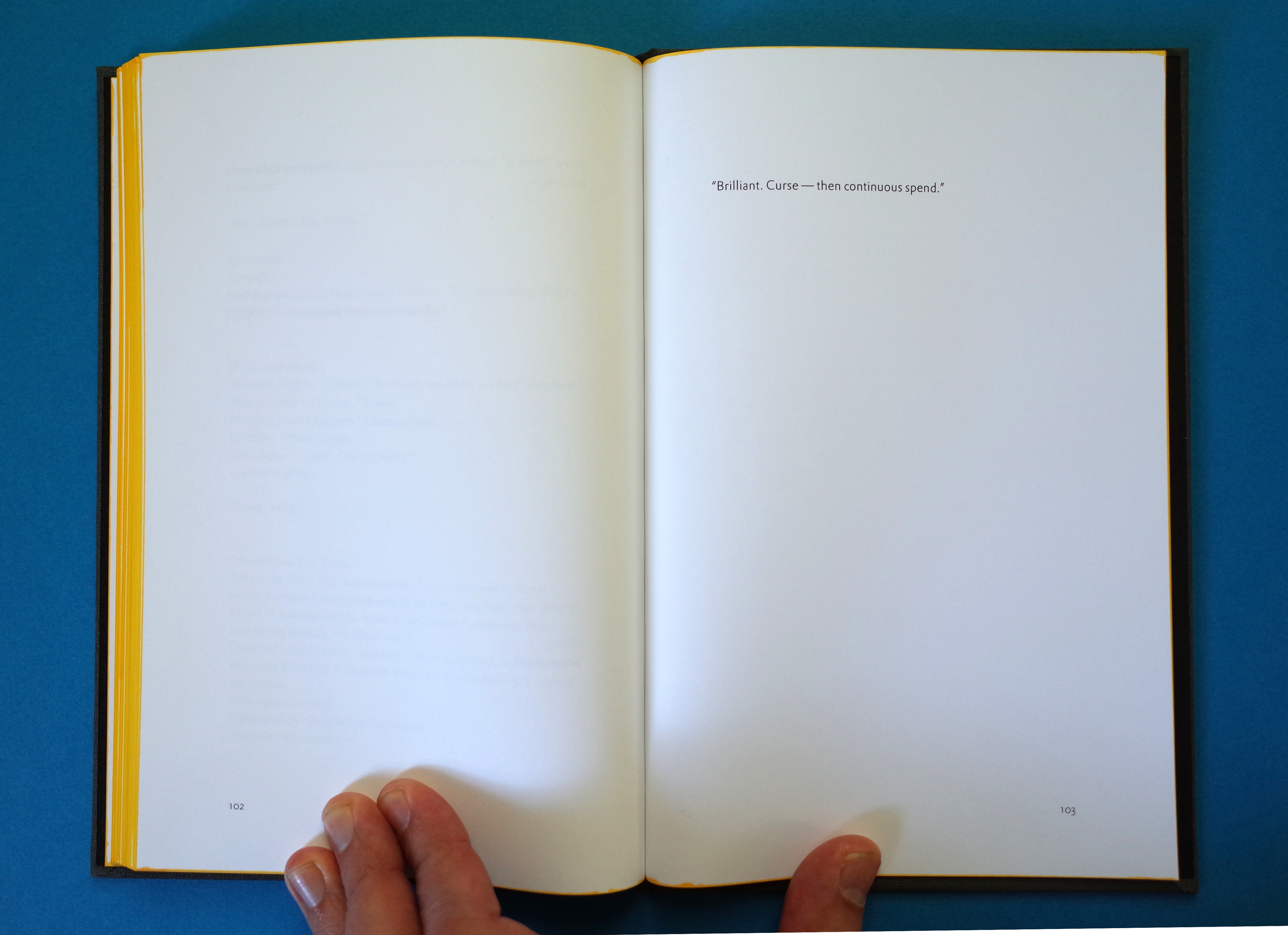 Varied Choreographies (desert, dialogue, debris). 2017.
Video animation, sound, textiles, photographs.

Working as a collaborative team, artists Wes Kline and Erika Lynne Hanson designed the installation Varied Choreographies (desert, dialogue, debris). Comprised of both computer-aided woven textiles and sound and video installation, Varied Choreographies investigates potentials for human movement and community within systems of meaning and interpretation. The work focuses specifically on movements in relation to desert modernism, the dance notation systems of Rudolf Laban, and the algorithms that generate digital loss and transformation.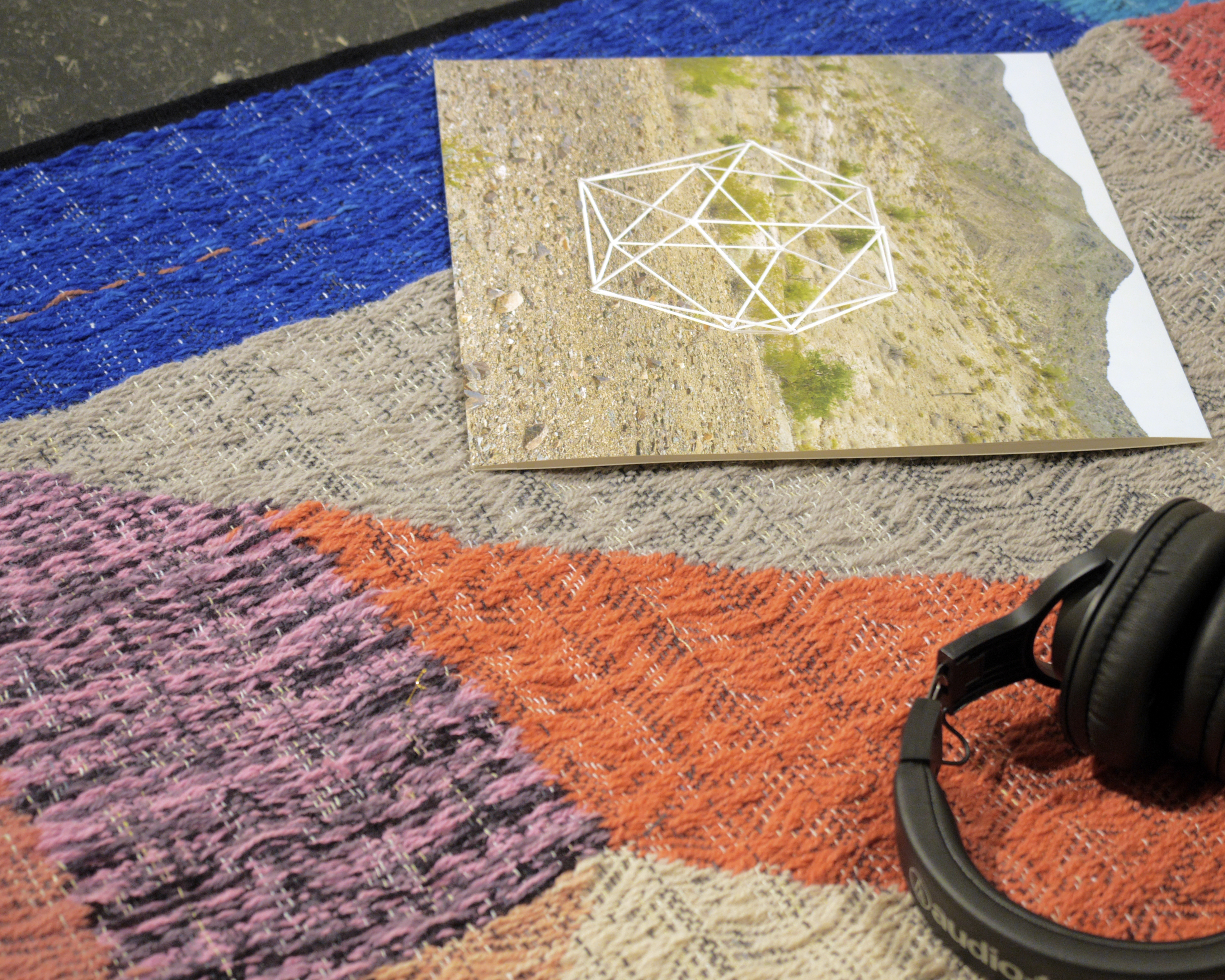 All of the work in Varied Choreographies (desert, dialogue, debris) uses the concept of "translation" of choreographic notation to interrogate the viewer's potential for movement through systems. The central investigation of the work focuses on the notation systems developed by early twentieth century choreographer Rudolf Laban. This early modernist system for translating any human movement utilized the form of the icosahedron, which uses twelve points to describe movement through space. For Laban, the icosahedron was the format for investigating space harmony, connecting the individual with "inherent" structures of the universe, enabling participants to form a bond through movement. Through a set of simple geometric glyphs placed spatially on a staff, complex gestures can be annotated. We use this notation system as a kind of 'algorithm' to provide a platform for the participant to imagine their own potentials for movement and connection.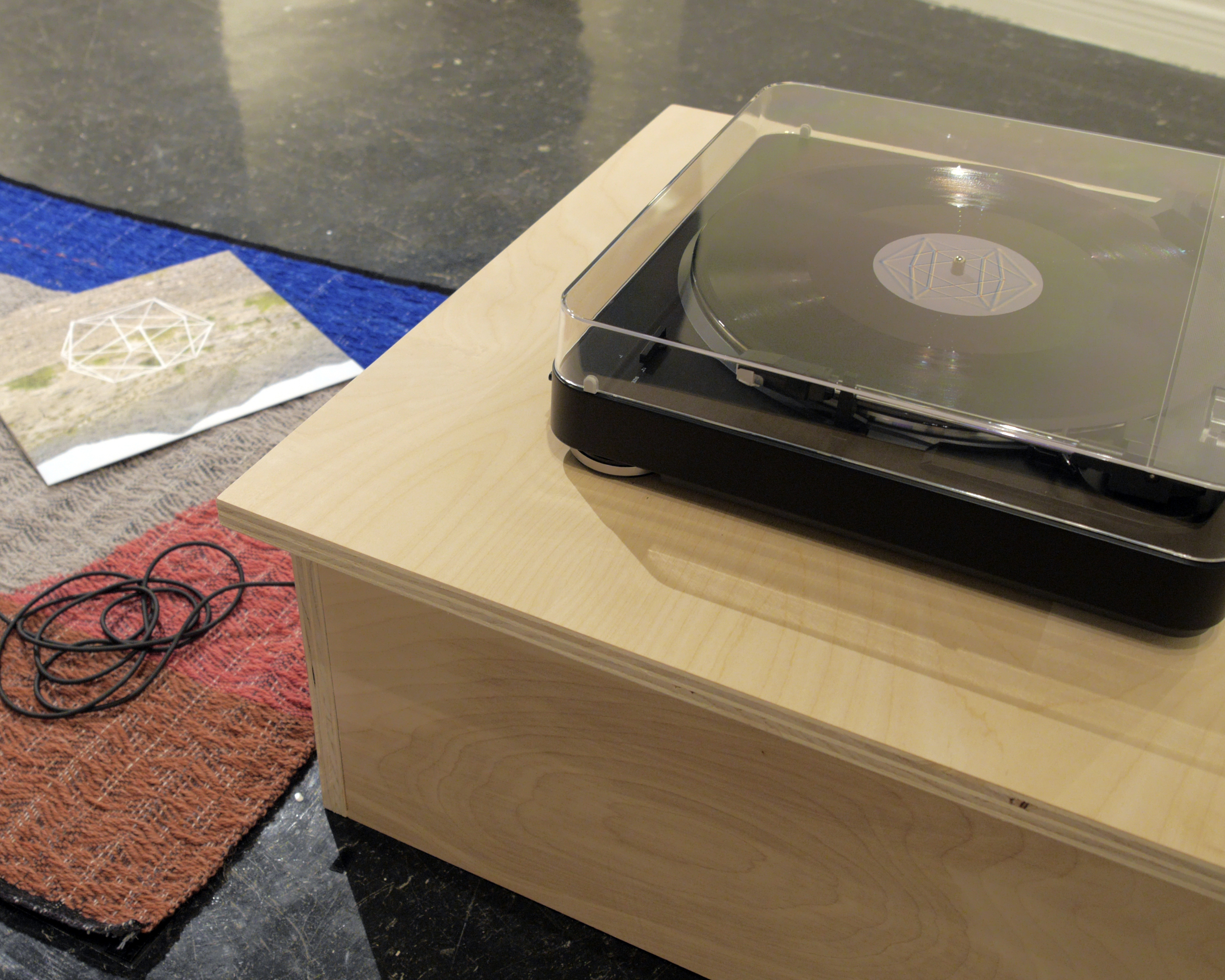 Choreographies. Vinyl record, sound file, headphones, turntable. 2017.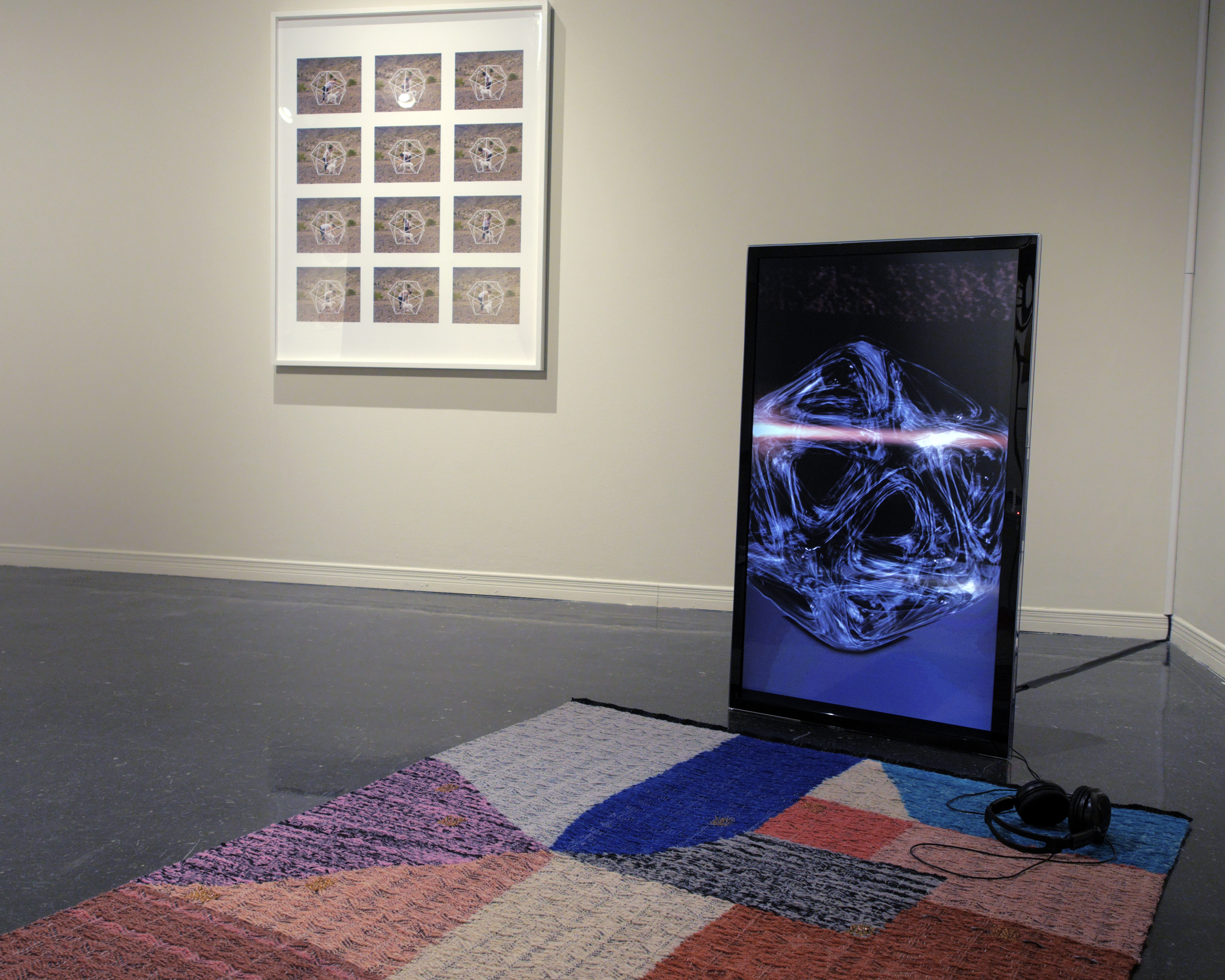 Choreographic Event (of the warm wind and the new joy). Digital Animation. 5 min. 2017.




Choreographic Event (of the warm wind and the new joy) from Wes Kline on Vimeo.




The installation includes two visually and conceptually connected viewing stations where participants can experience the work. One video station includes a fifty-inch flatscreen video monitor, mounted vertically and placed on the ground, with a hand-woven rug in front of it on which the participant will sit to watch and listen using headphones. The second station is a listening station with an automatic vinyl record player on a stand holding headphones, with hand-woven rugs on either side of it. The textiles use Labanian notation in order to describe simple movements within the twelve points of the icosahedron. These movements are used as a score to engage with other sets of twelve (drawing from a modernist history of "twelves" in art and music - twelve tones, twelve rules by Ad Reinhardt) in a video that uses twelve points of language and and a twelve tone sound work that is encoded on a record. These works present the potential for movement in a "domestic" space, the rug functioning as mediator between human activity and architectural form. This presents a model for the participant to activate the potentials of 'general space,' that familiar space in which we move regularly.

In a time when the dreams of community and movement of early modernism have calcified into algorithmic control of patterns of living, the spiritual retreat into the desert has become an extension of commodity culture, and possibilities of freedom and agency seem to be ever decreasing, this work suggests a place for reflection on, and activation of, the potentials of community and agency.

Teaching a dog Space Harmony, Twelve archival ink prints. 2017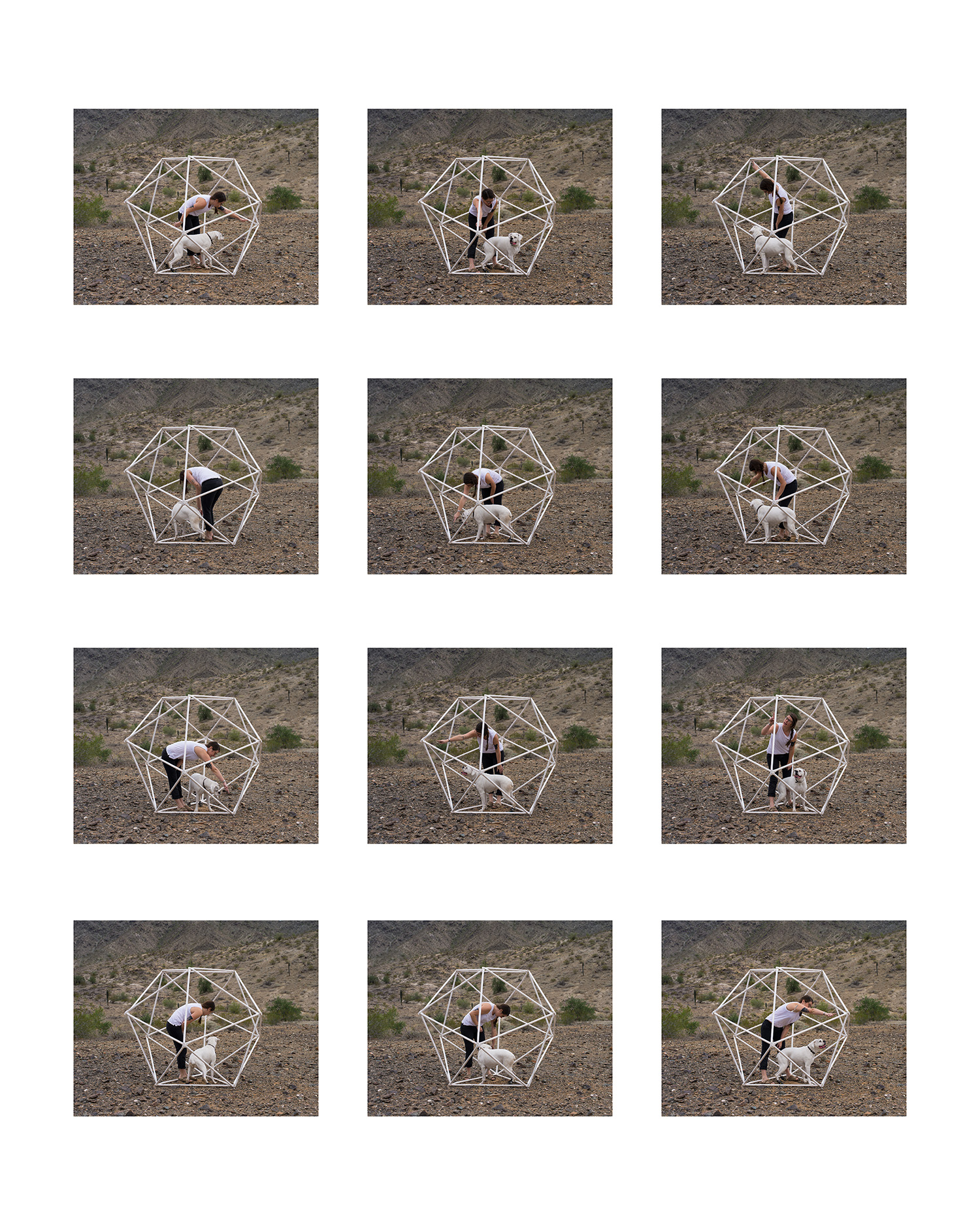 Choreographic Event (woven textile detail). 2017.



Twelve Rules, Twice (after Ad Reinhardt). 2017. 10 x 14 in. Xerox prints.


Rudolf Laban inside Isocahedron.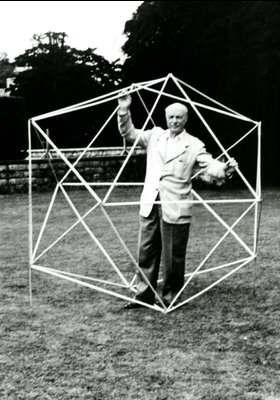 Compositions for Rivers. 2015. AR app with sound.

The public art work Compositions for Rivers utilizes photographs of rivers generated and submitted by the communities of the tri-county area, which have been modulated and interpreted by a custom computer program into sound, in order to create a 'sonic river' as a publicly installed sound art work, accessible as a printed sonic 'map' and an augmented reality app on a cellphone. This work is meant to be experienced in the Grasse River island of Heritage Park in Canton NY. Participants should travel to the park, use the printed map to direct their path through the park, and listen to the sound compositions while at the locations indicated on the map. Each location has seating, and is positioned with a view of the Grasse River.

I imagine that a listener will encounter Compositions for Rivers as they wander the trails of Heritage Park, the sounds of the translated photographs mingling with the rushing water, and in listening to this 'sonic map,' will have a moment of reflection, escape, or awareness of their relationship to the ever changing literal and metaphorical rivers around us.

Since both Canton and Potsdam (and indeed many towns in the North Country) are located on rivers, this work functions as a quiet echo of the local topography. In addition, by shifting information from one encoded medium (a photograph) to another (sound), and permeating public space with the new result, we can begin to think about the shifting codes that structure the information we encounter daily.




Compositions for Rivers was composed to be listened to while in Grasse River Heritage Park, Canton NY.

Grasse River Heritage Park is a former industrial site in downtown Canton, NY. It is accessible off of West Main Street, as you cross the Grasse River. It is composed of two islands that are joined by bridges, with numerous areas for sitting and engaging with the history of river use in Canton.

While in the park, participants can access the sound compositions by using this map, which has digital content embedded, and their smartphones.




How it works:

Step 1. Search for Layar on the app store for your device. Download the free Layar app for iPhone or Android.
Step 3. Open the Layar app, hold the phone above the page and "Tap to View."
Step 4. Hold your phone above the map to view the interactive content.
Step 5. Use headphones to listen to the
embedded sound files.
Step 6. Wander to the locations suggested by magenta dots and listen to each of the four movements of the composition.

Interview about project on North Country Public Radio:

https://www.northcountrypublicradio.org/news/story/29054/20150728/sonic-art-in-canton-shaped-by-river-sights-sounds

This project is made possible with funds from the Decentralization Program, a regrant program of the New York State Council on the Arts with the support of Governor Andrew Cuomo and the New York State Legislature and administered by the St. Lawrence County Arts Council.
SCENE: Binary Game. 4.1 channel sound installation. 15:35 min. 2014.

Text by Kirsten Kaschock.
Direction, editing and digital treatment by Wes Kline.

Collaboratively developed and recorded with the following perfomers:

Emma Daybranch, Gian-Carlo Filippi, Kelsey Hatch, Tzintzun Aguilar Izzo, Kirsten Kaschock, Charles Pepiton.

SCENE: Binary Games is a sound installation produced in collaboration with the poet Kirsten Kaschock and a group of performers that choreographs the performance of text-based binaries as they expand into a spatial event-community.




SCENE: Binary Games Sound Installation. Documentation. from Wes Kline on Vimeo.



Production images from recording of Binary Games.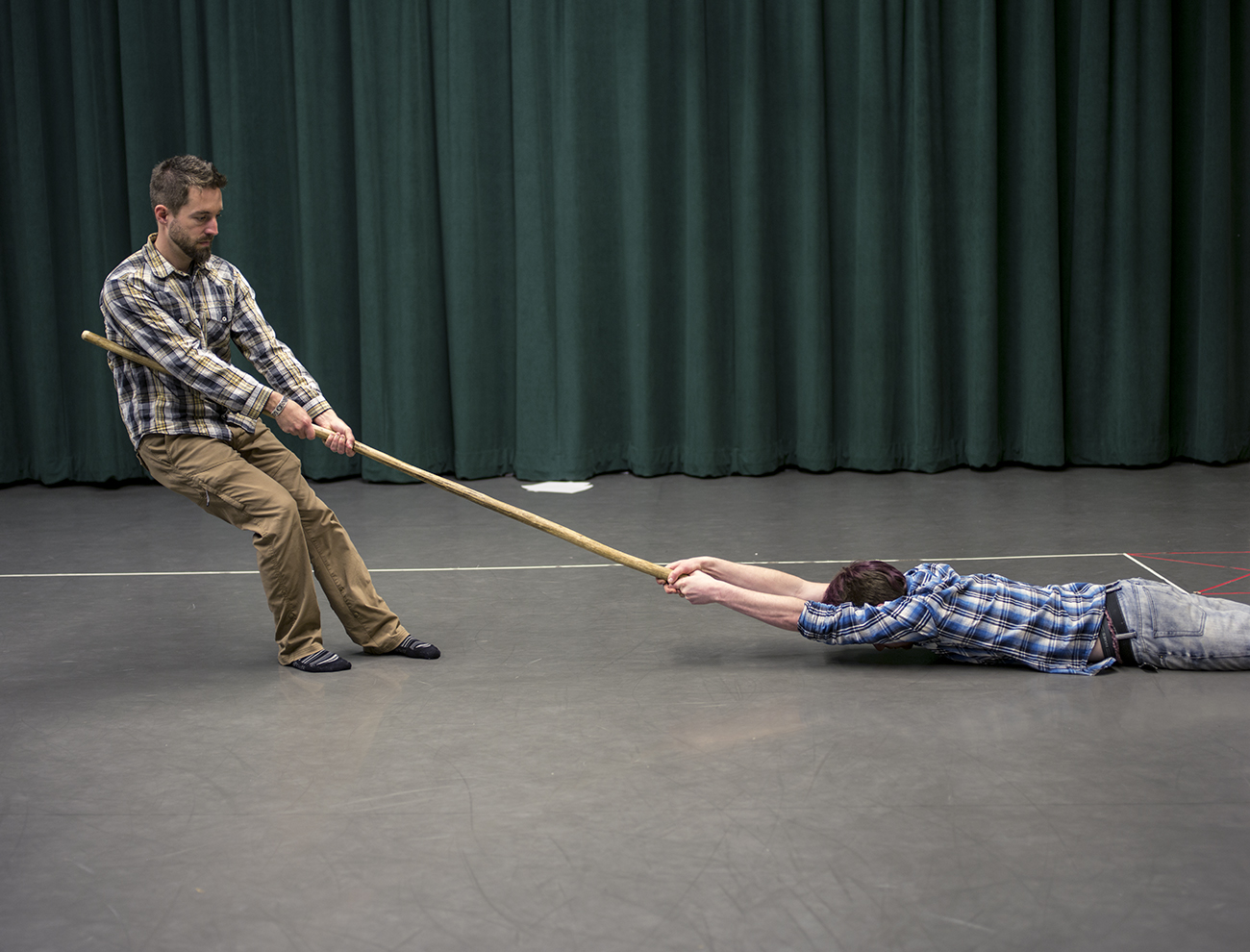 SCENE: The Square. Thirty four framed photographs from the Richard Brush Gallery collection, vinyl text. 2014.

This work is a site-specific Surrealist intervention into the Richard F. Brush Art Gallery archive (part of the larger exhibition "Voice Remainders"), recalling George Bataille's Documents magazine or Bertolt Brecht's War Primer. The work uses thirty four photographs from the primarily mid-century collection as well as vinyl texts I installed below the photographs. In this piece, I was interested in creating a 'scene' constructed out of both photographs and text, so that the viewer encountered the "image" of a voice or a sound in a square (suggesting perhaps the mediated voices of a political uprising), as well as dissonant images drawn from an archive of photographs. After curating photographs from the collection, I wrote a text that could both break down into individual phrases linked to photographic diptychs, and also be read as a continuous "scene," with text and image conjunctions modifying how we think of these historical images - shifting meaning and function.

In this way, I'm approaching the images curated from the collection as a type of 'choral voicing' - one could think of it as the archive speaking itself, or images only partially severed from their contexts, and given new political agency because they are then free to speak to contemporary image-concerns, such as their place in the archive, their doubleness, or their potential to be reactivated via temporary collage (such as a google search).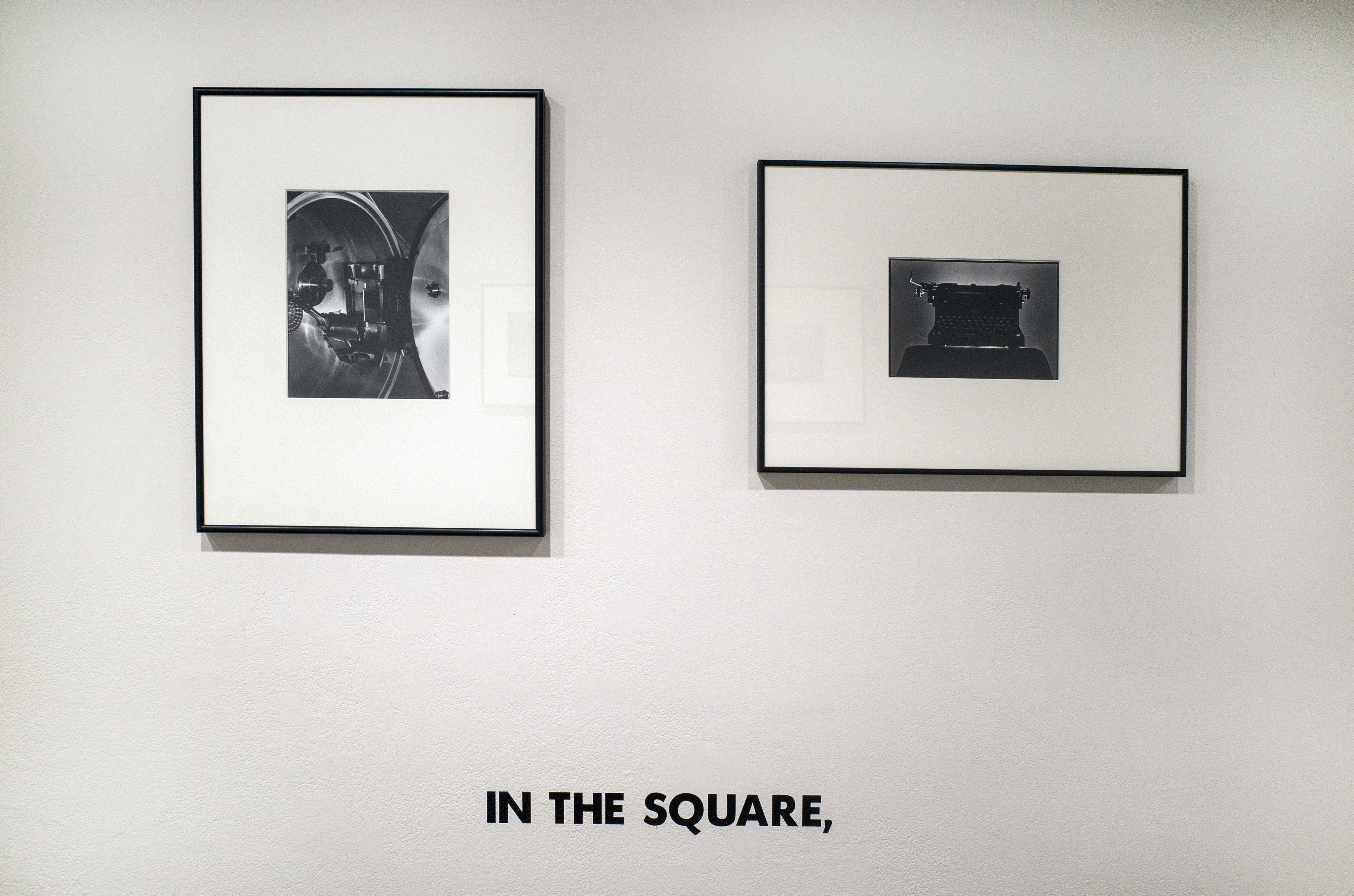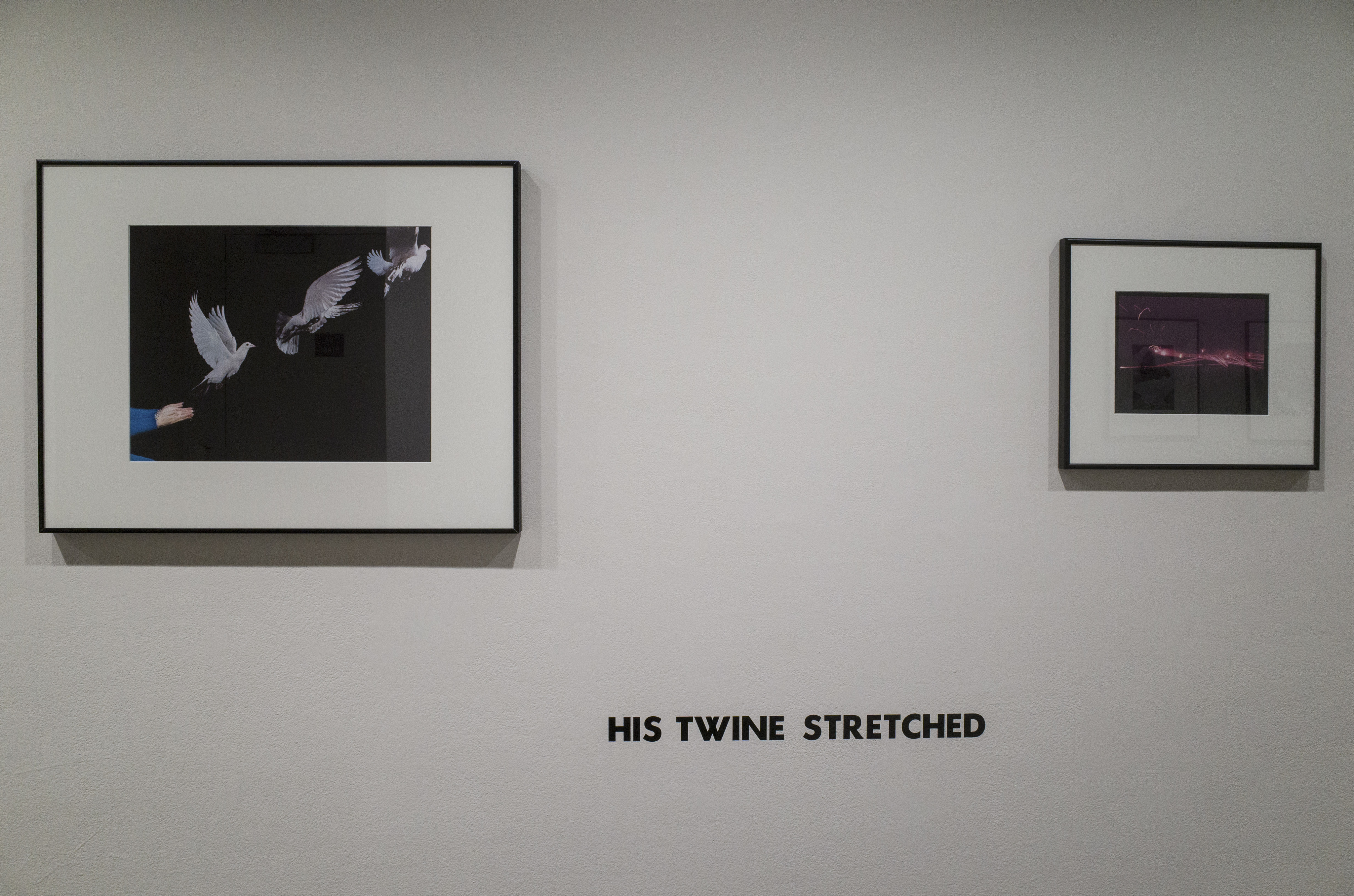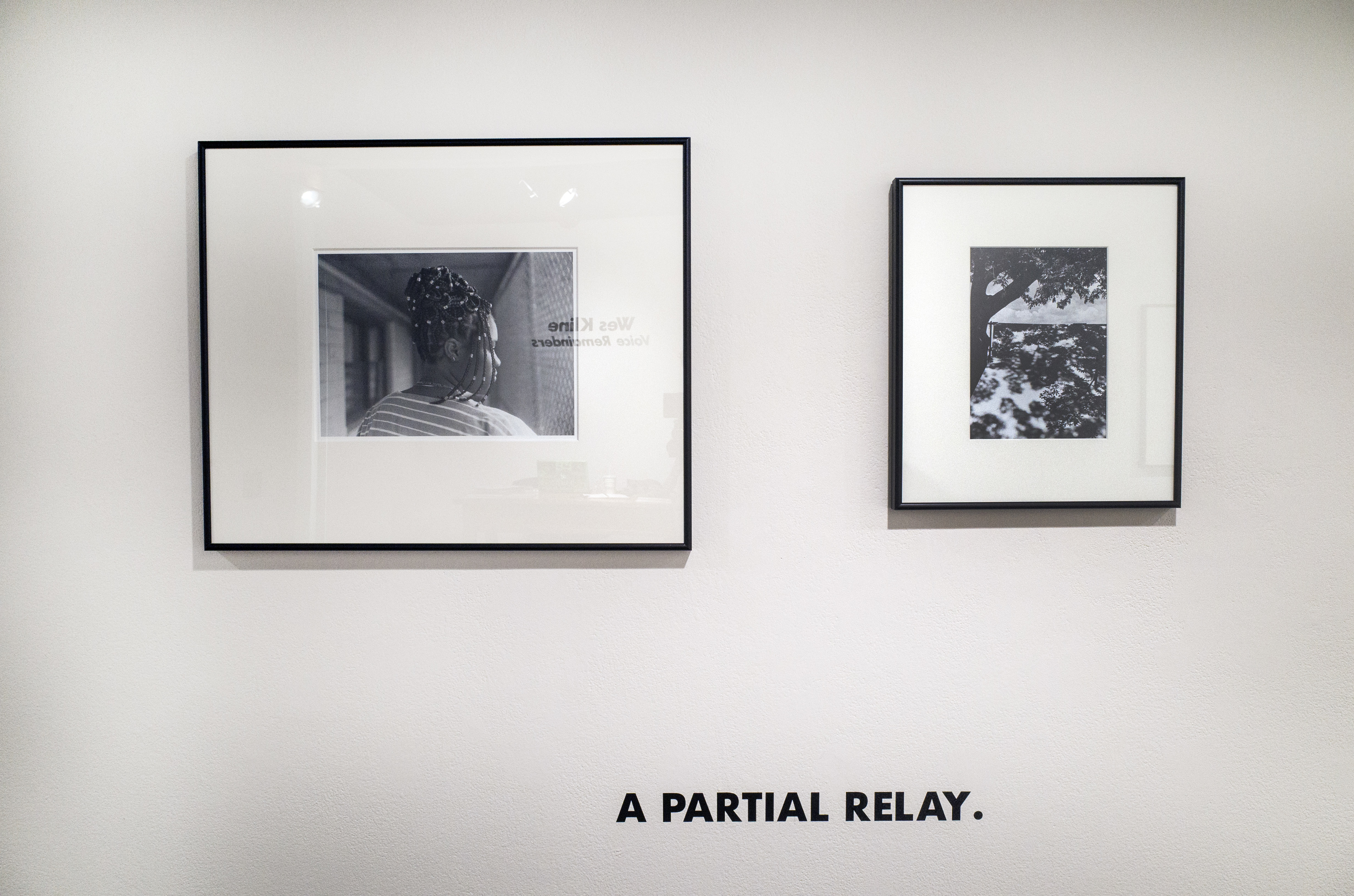 Selected Albums, 2017-2021.

Parallel to my visual art practice I also compose electronic and experimental music.